We will be hosting friends for the 4th of July, so needed to get our head situation settled! The Raritan Electro Scan is the most complex plumbing system we have yet to install – but our recent dorade replacement and electric motor install (and repairs) had us ready.
We played around with several installation position options, including:
forward of the toilet (which faces aft), nestled down into the subfloor. Would require moving the toilet aft and doing significant fiberglass work to modify the subfloor
under the v-berth (through a bulkhead forward of the head). Would change the storage space available, and it is currently highly accessible and usable. Would also result in longer hose and cable runs (meaning more cost and complications).
replacing the current holding tank location (aft of the head, under the port bench). Would require relocating the holding tank and probably require purchasing a new holding tank for different space.
inside head cabinetry (port of the toilet). Would require spatial disassembly before determining if fit was possible, then modifications to hold the Electro Scan.
The final option seemed best, even with the pre-work required to see if we could commit to it, so we started disassembling the head countertop. Beautifully-designed, the whole countertop came out in two pieces (countertop and opening lid). With some maneuvering, we fit the Electro Scan into place, and got our measurements for removing the aft wall of that storage space to snug the device.
Before this install, our two options were direct discharge (only useful offshore outside of No Discharge Zones) or into the holding tank (only able to be emptied via deck fitting pump out). To get our new system right, we needed to add about 25 feet of hose, the Electro Scan, and a vented loop.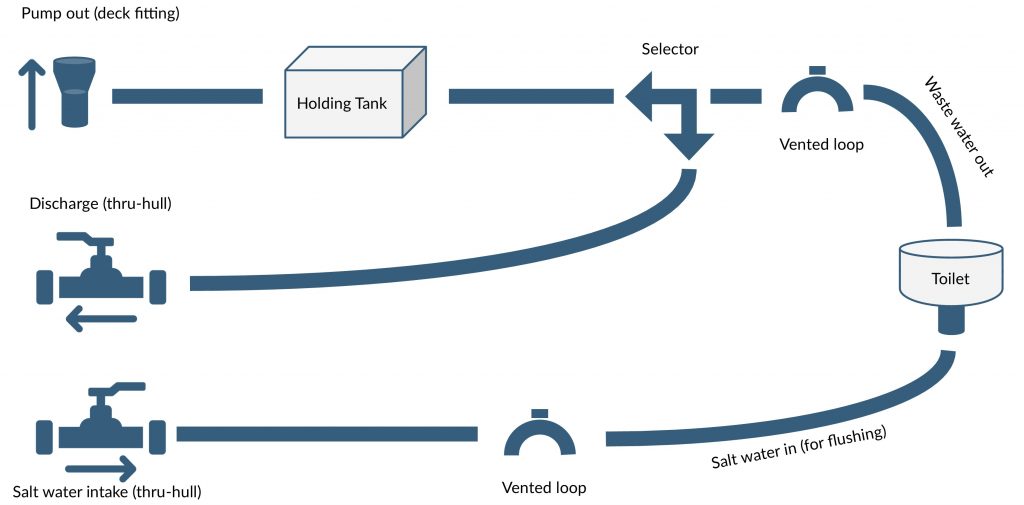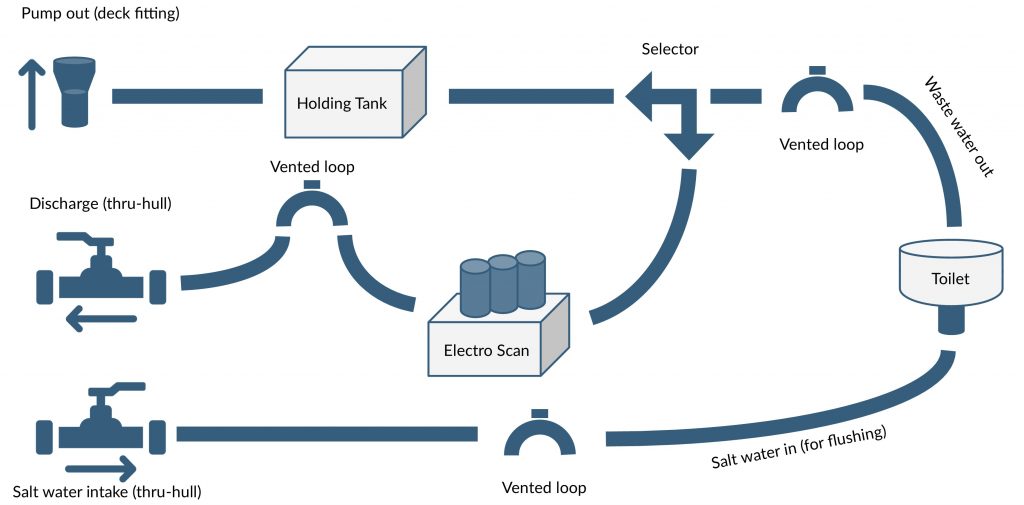 The power draw, combined with the length of our run from the power source (batteries in the quarter berth) to the ElectroScan and back, meant that we needed to use 2 AWG cable. We picked up a used 60 amp circuit breaker at Mike's Consignment Marine Shop in Ventura (awesome shop), got the wire & lugs at Beacon Marine, and started running cable. It took a few hours, but we got really clean runs under our flooring, and had it working yesterday. Since we are still in the marina, full testing remains in our future.