Charles will be riding his ebike and the solar cart from Berkeley to Santa Barbara.
The timeline is still uncertain (how long will it take to reach Santa Barbara?), but stay tuned for updates about his route, daily distances, and more!
We converted our bikes to ebikes at the end of November. We converted the bikes to make selling the car easier, and because we weighed our options for long-distance cruising and having land transport helps.
In late January, the solar project began, with the goal of being 100% solar charged, reducing our emissions even more. It only took a few days of soldering and electrical work before we were fully solar powered!
With how well the solar panel worked, we started wondering just how efficient it could be. Would it be able to sustain an ebike over long rides, and keep up with consumption? The next step was to start building a way to bring it with us, and test it whenever possible. We already had a bike trailer, built for a kid but that fits our laundry perfectly, so we decided to build on to that.
We got just about everything we would need at TAP Plastics, then stopped by a hardware store for some PVC connectors to build it all together. It worked great, and each short test ride brought a few new ideas. We bought a third battery, so that we did not need to run cables from the cart to the moving bike, and could swap batteries when empty. Charles visited local bike shops for recommendations on touring with his bike, picked up some new tires, an emergency spoke replacement kit, extra tubes for the cart itself, and other things like that – but tried not to go overboard.
Our last big test, checking that the panel worked, the connections did not get too jostled, the batteries could be charged inside the cart, the wind was not too intense for the GoPro, and more. We rode from Lake Merritt to Inspiration point, supposed to be a 1hr 23m ride, in about 45 minutes, including a few stops to adjust things, drink water, etc. Everything went according to plan, and was really pleasant.
We made some of the structures more permanent, and made a supporting frame for the solar panel itself to prevent some wobbles, and decided to make a cover for the cart. Sunbrella is great for marine uses, and we had plenty of scraps from other projects, so we built a semi-permanent cover to keep out the wind / sun / water. Plus, that branding is glow-in-the-dark – the iron-on vinyl was surprisingly easy to use! Every time we went out for a test ride with the solar cart, people would stop us to chat, so the solar cart is now officially The Friendmaker.
Starting point: Berkeley Marina, 1 p.m.
Ending point: Felton, California, 10 p.m.
The day started later than anticipated, but Charles pushed through and made it to Felton, even though that meant doing the entirety of San Jose through the Santa Cruz Mountains in the dark. Fortunately, we have some awesome family in the area, so he stopped for the night with them.
Total miles: 83.1
Elevation change: ▲ 2,523 ft, ▼ 2,159 ft
Starting & ending point: Felton, California
Break day! Charles is staying with our family in Felton, resting, re-evaluating his route, and re-packing. The solar charge helps a lot, and more than compensates for lugging The Friendmaker, but the cart is still overpacked.
He is going to get back on the road tomorrow. In the meantime, The Friendmaker is moving all around the compound to catch the best rays.
Starting point: Felton, California, 9:15 a.m.
Lunch break: Phil's Fish Market & Eatery, Moss Landing, California, 2 p.m.
Ending point: Monterey, California, 5:20 p.m.
After the day of rest & re-charging (still 100% solar, he did not even pack a wall charger), Charles is back on the road. The ride from Santa Cruz to Moss Landing was gorgeous, and since Charles and I collectively bought two boats in Moss Landing, he had lunch goals. Phil's has the best fish and chips in the area, and is a really fun, casual place to stop. When we bought Manzanita in 2015, our last meal before sailing up the coast to Berkeley was at Phil's.
After lunch, the wind was southerly and incredibly strong – even powered, downhill he was only going 10-15 MPH. With the headwinds, it was slow going, but he made it to Monterey before sunset and decided not to push further.
Total miles: 55.9 miles
Elevation change: ▲ 1,522 ft, ▼ 1,827
Starting point: Monterey, California, 11 a.m.
Ending point: Big Sur, California, 5:15 p.m.
It's lightly drizzling today, and tomorrow is the only dry day predicted for the rest of the week. Charles is continuing on, even with the rain the batteries are still getting solar power, so his plan was to try to make it to San Simeon before the next big rain starts. But now, the rain is predicted to be Monday – Wednesday, which really puts a dent in the timeline.
Currently, assessing options, routes, etc.
Total miles: 42
Elevation change: ▲ 2,828 ft, ▼ 2,766 ft
Starting point: Big Sur, California, 9:20 a.m. (a little disoriented by the time change)
Ending point: San Simeon / Cambria, 8:00 p.m.
This was the only clear day predicted for the rest of the week, and Big Sur is pretty isolated, so Charles decided to go for it. The time change was a little confusing, but since it did literally nothing to change the actual number of daylight hours, he still made his goal of San Simeon!
Tomorrow is certain rain, so he is going to hunker down in San Simeon for now.
Total miles: 68
Elevation change: ▲ 3,990 ft, ▼ 4,072 ft
Starting point: San Simeon / Cambria, California, 10:45 a.m.
Ending point: SLO, California 4:30 p.m.
Well, the day of "certain rain" got pushed to Tuesday, so after a nice breakfast he headed out towards SLO. The wind continued to be an issue, but the solar continued to bring power to the batteries. It was never enough to be an easy cruise, which was true most of the days of this ride – the rain and clouds limited the overall power intake, and the weather window meant that he was never camping and hanging out for an extra day while batteries charged, just always catching the next chance of riding without rain.
Morro Bay was characteristically beautiful, and he made it to SLO. One of the last chunks, the Los Osos Valley Road, was apparently really smelly – and Charles has terrible allergies, so it must have been rank.
Total miles: 42.1
Elevation change: ▲ 991 ft, ▼ 830 ft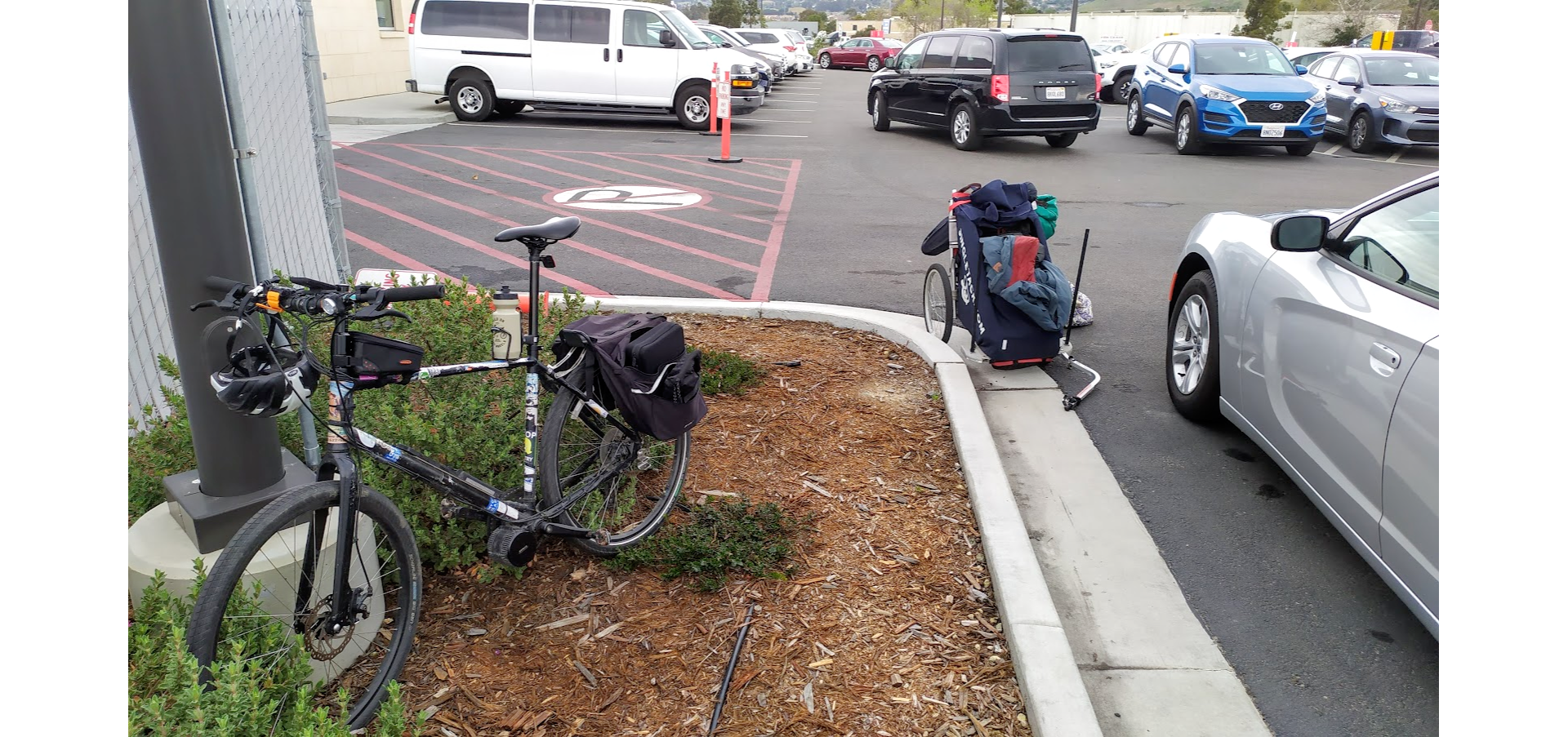 Starting point: SLO, California
Ending point: SLO rental car company, California
The "certain rain" finally arrived, and the prediction stayed consistent. Charles' ultimate goal was to get to Santa Barbara, and then take a train to Arizona to visit family. But between the weather, and the increasing health risks, he instead grabbed a rental car and drove to Flagstaff.
A surprising end to the journey, but overall it was a huge success. The solar panel kept up with use – not enough that he didn't have to work, and sometimes work hard, but it more than balanced the worth of bringing the solar panel & the Friendmaker.
Total miles: 5.7
Elevation change: ▲ 221 ft, ▼ 184 ft