Egyptians primarily speak Egyptian Arabic, which I had never been exposed to before and did not know even basic words, so I studied up before I left the USA. I made a phonetic guide for myself out of phrases I considered most important, which I pulled from an Egyptian Arabic app that was really helpful.
My phrases were: Hello / My name is Nora / Do you speak English? / Where is the toilet? / No olives / Please / Thank You / #1-4 / Coffee, with different sweetness levels / Husband & Wife / Help me / We need a doctor / Sorry / Excuse me / Thank you / Good / Expensive / Yes / No
I figured those would get me relatively far, and they did! Many people had great English, but others had little or none, and were super excited that we tried to communicate.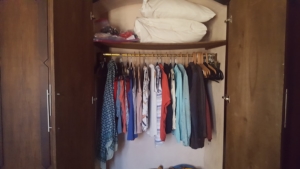 We visited Egypt in October – November, when it is starting to get cooler, but days can still be very hot and nights are balmy. The weather changes the further you get from the Nile, but we planned to stay as close to the water as possible.
As a woman visiting an Arabic country, my primary concern was how to dress to be polite and respectful of local customs, without boiling under too many layers.
I focused my packing around fabric choice (cotton, linen, and rayon).
Shirts: 5 short sleeve button-ups, 1 SPF sun shirt (polyester, huge mistake), 2 light cotton modest undershirts
Bottoms: 3 pairs of linen pants (red, pink, and light teal), 1 pair of jeans, 1 long cotton skirt
Warm: 2 long-sleeve cotton t-shirts with hoods, 1 heavier sweater
Other: a dress, socks & underwear in abundance, 2 sports bras, 2 bras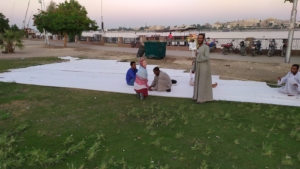 My accessories were primarily functional:
sun hat
two light but colorful scarves to either cover shoulders, hair, or both
Ultimately, I was always the most comfortable with my shoulders covered, my shirt buttoned up to my neck, wearing pants, and carrying a scarf that I could wear any time. In Cairo, I typically kept my hair covered, less in Luxor, and least on the water.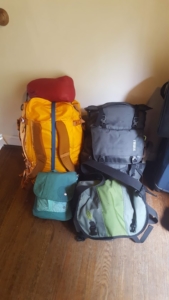 We decided to pack into carry-on only, which meant that the fewer choices, the better. I decided to go with one closed pair of shoes and one comfortable walking sandal. The walking sandals were easy to choose – Tevas – but the closed shoes were more of a challenge. Sneakers? Hiking boots? Other?
I ended up choosing some waterproof Teva ankle boots – stylish enough, but also sturdy and comfortable for endless walking.
Overall, these two pairs of shoes were everything I needed. Hiking boots were not needed – we did plenty of climbing in and out of tombs, around and about monuments, and I never felt like I needed heavier support. Bringing closed shoes was important, because walking around Egypt can leave your feet really dirty, so sometimes I really valued going out knowing I would come home clean.
We both got shots & boosters before we left, and got recommendations for our trip. We brought Emergen-C, Pepto Bismol tablets, Imodium, and 12 Clif bars. The Emergen-C was great, kept us hydrated and taking in vitamins, plus inevitably had a psychosomatic benefit. We took Pepto Bismol pretty liberally, per the recommendation of our doctors for a trip under a month, any time we felt iffy after a meal. The Imodium we did not need, but came in handy for fellow travelers, and is always a good thing to bring. The Clif bars were great for any time we stayed at a temple a few hours longer than planned, or skipped lunch without realizing, or just needed a snack but did not feel up to going out.
We considered bringing water purification tablets, but we would have had to bring so many, and always wait for any water we wanted to drink, so we decided to rely on local bottled water. Everywhere we went, we got the largest containers available, which we used to re-fill our two Nalgene bottles. In Cairo, we got a hand pump for the 5 gallon waters to cut down on plastic waste.
Charles was pretty concerned about mosquitoes following our most recent Angel Island experience, where the boat got swarmed by mosquitoes when we moored too close to the island. So we took several precautions, only one of which ended up being necessary. We got bug repellent lotion, for daily use, and sprayed Permethrin Clothing Insect Repellent on our top 3 outfits each before we left. That alone ended up doing everything we needed, and we each only got 1-2 mosquito bites when we were wearing other clothes. Overall, I think the mosquito problem is exaggerated, and since the Permethrin does not stain, stays on for 6 washes, and does not smell after you spray it, that is my recommendation.
Should Have Left at Home vs. Should Have Brought
I should have left at home:
jewelry did not end up being necessary, or even practical, given how often I was covering my hair
a mid-ankle but form-fitting dress
3 of the 5 pairs of sunglasses I packed
jeans
polyester sun shirt
the bug repellent lotion
I should have brought:
more pants with an elastic ankle, since that kept them much cleaner